Zlatníctvo, strieborníctvo a príbuzné odvetvia sa zaoberali výrobou šperkov. Táto výroba bola už v pradávnych dobách na vysokej úrovni, o čom svedčia nálezy v hrobkách egyptských faraónov, vykopávky šperkov z doby okolo r. 2500 p.n.l v Tróji, v neskorších dobách v Grécku, malej Ázii, v Babylone aj v Ríme. Každé historické obdobie sa vo vývoji umenia vyznačuje určitým slohom. Podobne ako staviteľstvo alebo odievanie bol i šperk slohovým doplnkom svojej doby. Šperk nebol výlučne ozdobou, ale často slúžil ako náboženská potreba. Ľudia nosili ozdoby a drahokamy ako talizmany a amulety na ochranu proti neviditeľným mocnostiam a kúzlám, alebo im pripisovali nadprirodzenú silu a moc.
V neskorších dobách bol šperk symbolom určitého významného spoločenského postavenia. Kráľovské žezlá a koruny patrili k oficiálnej pompe panovníkov, kalichy a pontifikálne slávnostné prstene boli zasa znakom cirkevnej moci. V histórii obliekania mal úžitkový šperk nemalú úlohu a stal sa priamou súčasťou odevu. Tak tomu bolo s ihlicami, sponami, prackami, opaskami a pod. Čím väčším bohatstvom kto oplýval, tým viac lipol na svojom postavení a moci, ktorú dával šperkami viditeľne najavo. Nie len v staroveku a stredoveku, ale i v dnešnej dobe často počúvame o rodinných šperkoch. Zvlášť o prsteňoch a drahokamoch so zvláštnymi tradíciami. Strata takéhoto prsteňa neznamenala len hmotnú škodu, ale považovala sa aj za zlé znamenie do budúcnosti.
Ozdoba primitívneho človeka bola veľmi jednoduchá a ozdobné predmety nevyžadovali precízne opracovanie. Na šnúry, ktoré sa nosili na krku alebo na zápästí, sa navliekali rôzne rybie kosti, alebo jelenie a medvedie zuby. Tak vznikali náramky a náhrdelníky. Medzi najstaršie materiály, z ktorých sa vyrábali sekery, nože a iné nástroje k opracovaní rôznych predmetov, patrili nefrit a jadeit. Z týchto kameňov sa v Číne a v Indii vyrábali amulety a veľmi obľúbené šperky. V predhistorických dobách sa okolo roku 8000-5000 p.n.l. nosili v Egypte na členkoch šnúry zo zlatých guľôčok a plieškov. V neskorších dobách sa stáva šperk v Egypte symbolom náboženského kultu tak ako nikde inde na svete.
Muži nosili najviac prstene s otáčavým kameňom, na jeho jednej strane bol vyrytý znak, používali ho ako pečatidlo. Na druhej strane bývala obvykle vyrytá kamej, to je šperkový kameň z dvojfarebného vrstveného materiálu, s reliéfne vyrezávanými figurálnymi motívmi, pričom je vyrezaný vo svetlejšej hornej vrstve,zatiaľ čo spodná vrstva je tmavšia a vytvára kontrastný podklad.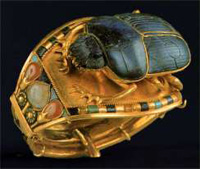 Egyptský šperk sa potom rozšíril do okolitých zemí a mal vplyv na šperkárske umenie v Malej Ázii, Babylone, Grécku a Ríme. Dovoz farebných prírodných drahokamov a perál z Indie mal vplyv na charakter šperkov, ktorý sa tak značne spestril.
Skvelým dokladom vyspelosti slovanského šperkárstva sú vzácne nálezy na území Veľkej Moravy z 9.storočia n.l. Z technického hľadiska je prevedenie týchto zlatých a strieborných šperkov a ozdôb veľmi náročnou zlatníckou prácou, lebo sú zdobené jemnou granuláciou: je na nich patrný byzantský vplyv. K vývoju českého zlatníctva značne prispievala hojnosť drahých kovov, ktoré sa u nás ťažili najviac ryžovaním z riečneho piesku a neskoršie tiež dolovaním. V stredoveku sa zlatníci zameriavali najviac na výrobu chrámových šperkov. Pri kráľovských dvoroch boli vynikajúci zlatníci preslávení svojou zručnosťou. Z doby panovania Karla IV. sa zachoval šperk mimoriadne vzácny. Je to Svätováclavská kráľovská koruna, vyrobená zo zlata a drahých kameňov, ktorú dal kráľ Karol IV. zhotoviť v roku 1346 českými zlatníkmi.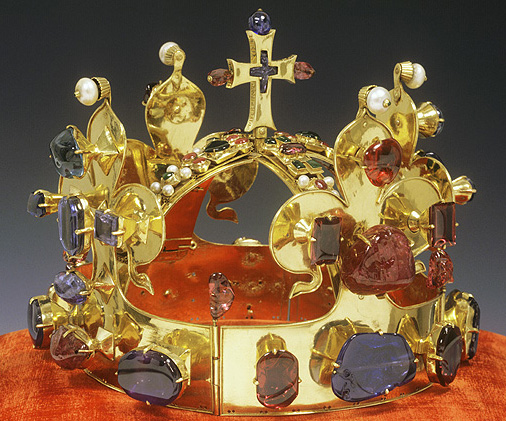 V novoveku sa zlatníctvo mení v skutočné umenie.V múzeách aj v súkromných zbierkach sú uložené nádherné umelecké diela majstrov zlatníkov. Renesančný zlatník bol všeumelec. Šperk nielen navrhoval a vyrábal, ale i ryl, cizeloval, emailoval. Jedným z vynikajúcich zlatníkov tej doby bol Benvenuto Cellini 1500-1571, žiak slávneho maliara a sochára Michelangela, ktorý tiež vynikal v zlatníctve. Cellini, rodák z Florencie, bol nielen vynikajúci zlatník, rytec, cizeler, ale tiež známy sochár. Svoje diela vytváral na kráľovskom dvore francúzskeho kráľa Františka I. v Paríži. Z jeho početných diel sa zachovala soľnička Františka I., ktorá je uložená v múzeu vo Viedni.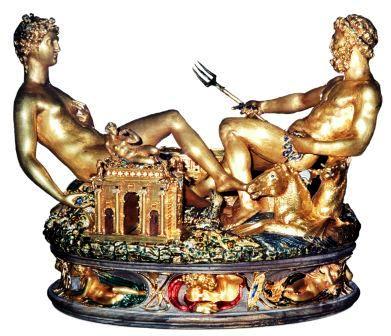 Oproti minulým dobám sa šperky stali dostupnejšie. Prstene, náhrdelníky, náramky, náušnice, brošne a ďalšie ozdoby sa vyrábajú preto, aby svojím dokonalým prevedením dali vyniknúť kráse, pôvabu a vkusu v odievaní moderného človeka. Tieto doplnky majú hlavne u žien prispievať k tomu, aby sa vo vhodnom spojení s oblečením dosiahli pri slávnostných príležitostiach čo najestetickejší vzhľad.